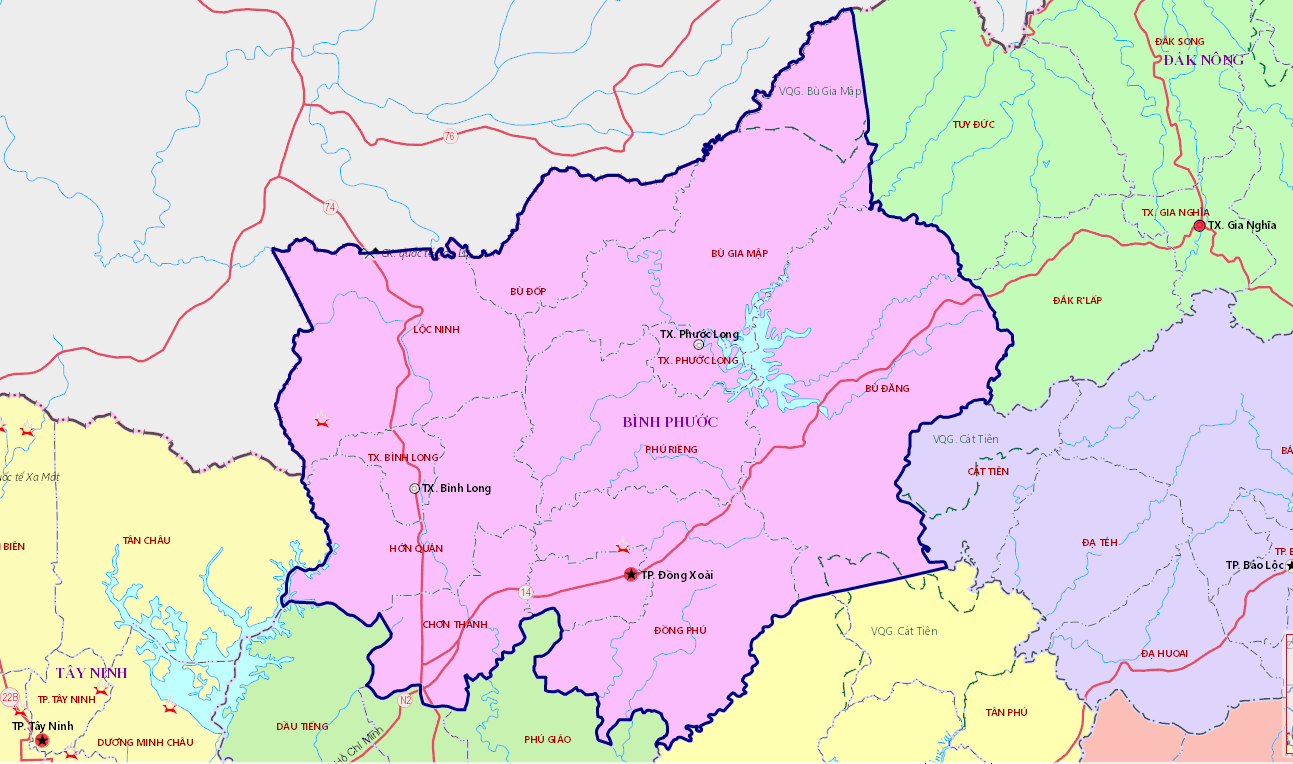 Administrative map of Binh Phuoc
Compared to other regions across the country, Binh Phuoc is considered a young land. This place has only really been "awakened" since the French conquest of Cochinchine province (including the land of Binh Phuoc). Facing the oppression, exploitation and harsh rule of the French colonialists, then the American imperialists, residents of Binh Phuoc land constantly rebelled to fight against the invading enemies. Binh Phuoc people have recorded in the history books imprints with unforgettable places like Phu Rieng Do, Ta Thiet Base, squirrel Bom Bo ...

After the liberation of the South and reunification of the country (April 30, 1975), Binh Phuoc entered a new era of overcoming the consequences of war, building the homeland. After many separations and administrative registrations, on January 1, 1997, Binh Phuoc province was re-established and put into operation.

GEOGRAPPHIC

Binh Phuoc is the gateway, bridge connecting the South East Region with the Central Highlands and Kingdom of Cambodia, the province has 260.433 km of the border with Kingdom of Cambodia. The East adjoins to Lam Dong province and Dong Nai province; the West adjoins to Tay Ninh province and Kingdom of Cambodia; the South adjoins to Binh Duong province; the North adjoins to Dak Nong province and Kingdom of Cambodia.

Administrative boundaries are divided into elevent units, including one city namely Dong Xoai, two towns namely Phuoc Long, Binh Long, and eight districts including Dong Phu, Loc Ninh, Bu Dang, Bu Dop, Chon Thanh, Hon Quan, Bu Gia Map and Phu Rieng. Dong Xoai City is the center of politics, economic and culture of the province, 110km away from Ho Chi Minh.

HYDROLOGIC CLIMATE

Binh Phuoc provine lies in the minsoon sub-tropical zone with two clear seasons: the rain season starting from May to October, the dry season from November to April of the following year, unlikely to be affected by clamity flood and storm industrial and agriculture production development.

NATURAL RESOUCES

Land resouces
Binh Phuoc occupies 687,155 ha of natural land which highly stays fertile and appropriate for growing perennial industrial plants such as rubber, cashew nuts, pepper , coffee and fruits, etc; facilitating the devolopment of agricultural, forestry prodution as well as industrial processing fields.

Water resouces
Binh Phuoc is pd rich surface water source with such big rivers as Dong Nai river, Sai Gon river, Be river, etc., and big streams distributed around the provincial territory. Furthermore, there are a lot of lakes and dams like Dong Xoai lake, Suoi Cam lake, Rung Cam lake, Phuoc Hoa lake, etc., Thac Mo, Can Don, Srok Phu Mieng hydroelectricy dams aiming at supplying sefficient water for living activites, industrial and agriculture development.

Underground water source composes od the lowlying land alongside revers and streams, especially in the Southwestern area od the province. The water resouce exposes to be abundant and plentiful to ensure the exploitation of living activites and production od industrial clusters and enterprises.

Forestry resource
Total forestry area of the province makes

up 178,418 ha, including special use forest, protection forest land and forest land for production being 31.282 ha, 45.817 ha and 110.319 ha respectively. Natural forests in Binh Phuoc are rich in reserve, abundant in kinds and play a critical role in maintaining and protecting ecological environment for the South East region.

Mineral resource
Binh Phuoc terrritory has a big reserve and abundant in types such as: stone, sand, clay, puzolan, kaolin, bauxite, limestone, etc., In which the big limestone reserve stands at the second rank of the country (only after Kien Giang province), creating favourable conditions for boosting high production of cement and construction field./.