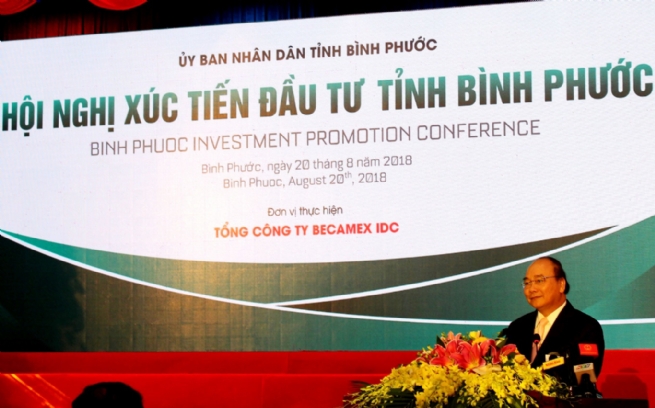 Impressive numbers
Binh Phuoc is attractive to investors because it has unique advantages over other localities. It has a vast land fund for investment projects, particularly in sparsely populated areas. It lies on traffic axis of the Central Highlands to Southeast and Southwest key economic centers, keeping traffic flows smooth. With a prime location and diverse transportation network, Binh Phuoc is considered a golden opportunity for trade and investment in southern Vietnam. This is also a leading place in the southern key economic region, connects to the Southeast and Southwest of Vietnam, Southeast Asia and the world. In addition, Binh Phuoc is also a major center of garment and textile, leather and footwear, machinery, electrical and electronic equipment, wool processing and renewable energy investment projects, especially solar electricity.
Besides, the province has a synchronous infrastructure system, especially transportation infrastructure. Presently, arterial roads linking Binh Phuoc with Binh Duong province, Ho Chi Minh City and Central Highlands provinces have been upgraded and expanded to meet investors' needs. Electricity, water supply, post and telecom, finance, banking, education and training, healthcare, tourism infrastructure and entertainment facilities have been built and upgraded to meet public and business needs.

Binh Phuoc has eight industrial parks with a total area of ​​nearly 1,200 ha whose occupancy rate is about 70%. According to the plan to 2020, the province will have 13 industrial parks covering ​​4,686 ha and Hoa Lu International Border Gate Economic Zone covering ​​28,364 ha (3,580 ha of the central area has been already put into operation). They provide land for domestic and foreign investors to locate their projects. The province has assigned investors to build infrastructure of Becamex Binh Phuoc Industrial Park in Chon Thanh district and Minh Hung Sikico Industrial Park in Hon Quan district. These two large-scale and modern industrial zones have favorable infrastructure conditions to attract investment.
In the first nine months of 2019, Binh Phuoc licensed 31 new FDI projects with a total registered capital of US$131.3 million, bringing its total FDI projects to 224 with US$2.25 billion of registered investment capital. Notably, foreign investors are involved in many industrial projects and deep processing projects. This is considered a good signal for Binh Phuoc's investment policy. Moreover, the province woos many potential investors into big projects such as livestock farming and processing projects invested by Dabaco Group, livestock farming and processing projects invested by CP Group, Ta Thiet Wartime Military Headquarters, Ba Ra Cultural - Lifesaving Complex, and solar power projects. In particular, Binh Phuoc is the first province to export organic chicken to Japan (Hung Nhon Group exported chickens to Japan on September 9, 2017).
In addition to luring the investment fund, Binh Phuoc pays much attention to business development. In the first nine months of 2019, the province had 833 new companies with a combined registered capital of VND9,989 billion, raising its total enterprises to 7,432 with a registered capital of VND68,035 billion as of September 30, 2019 (after being reviewed, active enterprises were counted at about 6,400 with a registered capital of VND49,200 billion). Taxpaying companies are 5,009.
Investors' success is the province's success
Binh Phuoc province advocates enticing capable investors for key economic sectors, prioritizing supporting industries, hi-tech industries and deep processing industries (especially cashew nut processing for export), hi-tech agricultural projects. Besides, the province calls for investment fund for service, trade, tourism and urbanization projects.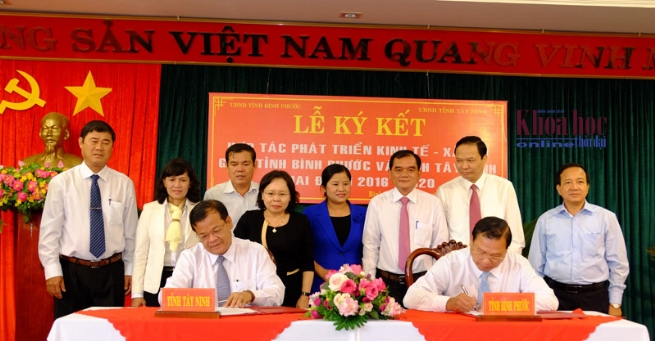 To improve investment attraction efficiency, Binh Phuoc speeds up administrative reform, substantially reduces business conditions to drastically improve the business investment environment, gradually build an open, transparent investment climate, create comparative advantages of investment attraction over other provinces and cities in the region. Specifically on investment incentive policies and reform administrative procedures, Resolution 31/2017/NQ-HDND dated July 19, 2017 of the Provincial People's Council states reducing the time to deal with administrative procedures in all stages of investment (reducing at least a third of time compared with centrally stipulated provisions). With the broad involvement of all levels of government and branches, administrative procedure settlement for investment projects has been streamlined. Notably, an enterprise can be granted an investment certificate within 24 hours if it satisfies regulatory requirements. The province has also established and operated the Provincial Public Administration Service Center - the only place to receive and deliver results of administrative documents filed by investors; set up the Startup Fund to support seed money for innovative startups. Recently, the Executive Board of the Provincial Party Committee has also established an administrative procedure review panel and constructed an electronic government (Decision 1409-QD/TU dated May 20, 2019 of the Executive Board) to advise the Provincial Party Committee, TTTU and the Provincial People's Committee on building an enabling government.
To strengthen business dialogs and solving hardships for investors, the province has established and announced a contact hotline to the Secretary of the Provincial Party Committee. All investors can directly report their issues to the Secretary via his/her telephone number or email address. The Secretary will request relevant departments, branches and local governments to settle the issues. In the pas time, all reports sent to the Secretary by investors via the hotline contact are promptly resolved, thus building up the trust of businesses in the province's efforts for administrative reform. Besides, on January 30, 2018, the Provincial People's Committee issued the Decision 246/QD-UBND on establishment of investment attraction and support group. The group will hold monthly or irregular meetings to review and resolve petitions, proposals and solutions for enterprises in the quickest manner to facilitate local companies to do business with ease.
Mr. Vo Sa, Director of Department of Planning and Investment of Binh Phuoc, said, in the year to date, the Provincial Party Committee and the Provincial People's Committee have arranged weekly meetings to solve emerging hardships faced by local enterprises and investors to build up their trust in the local business environment. "We always see the success of businesses and investors as ours and hope that, in the coming time, more investors and partners will come to the province. We are committed to doing our best to support and facilitate investors to do business successfully," he stressed./.